[Solved]

Custom CSS for Comment Bubble?
Regarding the comment bubble on the left side of my screen, how do I:
1. Add a hover color? (besides the inactive color)
2. Make the border 3px wide?
3. Change shadow to: 0px 3px 10px 1px rgba(0, 0, 0, .2)
4. Add hover shadow: 0px 1px 3px 2px rgba(0, 0, 0, .15)
(#3 & #4 will make the comment bubble match all my other buttons.)
Hi,
Please note, that we don't provide support for style customization, we may help in 1-2 simple questions related to colors and background but not more. We can not help you customize the components of website style, these are custom requirements and should be done by website owners. We only help with general questions and issues.
Thank you for your understanding.
You can find all classes by pressing F12 on the browser and opening Chrome or Firefox Console, it'll help you easily write CSS rules you need to customize.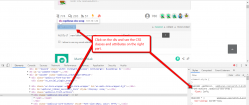 This website should help you to write CSS rules:      https://www.w3schools.com/cssref/default.asp