[Solved]

wpDiscuz subscription
Topic starter
05/05/2022 11:07 am
wpDiscuz allows users to get all kinds of notifications from your website comment system, such as new comments, new replies, double opt-in subscription, a user mentioning, user following and new comments by followed users. 
Let's check out some of the wpDiscuz subscription types:
Options in the "Subscription bar"
Single comment subscription
1. The subscription bar has two available options:
      1.1 new follow-up comments.
This means that subscribed user gets an email notification, each time a new comment is published under the current post.
     1.2 new replies to my comments.
In this case, the subscribed user gets an email notification, when someone replies to any of the comments by himself/herself. That is, if there are two comments X and Y by the current user, s/he will get the email notification when someone replies to either X or Y comments.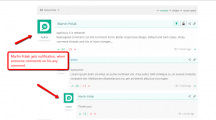 2. Single comment subscription
The "Notify of new replies to this comment"  option allows you to get an email notification when someone comments on his/her current comment.
More info here: https://wpdiscuz.com/docs/wpdiscuz-7/plugin-settings/subscription-and-user-following/
Important: wpDiscuz doesn't have an auto-subscription feature. These kinds of options don't comply with GDPR and they are not manageable.
You can monitor and manage all subscribers in the Dashboard with the wpDiscuz – Subscription Manager addon. Please check out this nice tool here: https://gvectors.com/product/wpdiscuz-subscribe-manager/
If the wpDiscuz subscription and email notification don't work, check out this FAQ: https://wpdiscuz.com/community/f-a-q/wpdiscuz-subscription-and-email-notification-dont-work/